darkoshi
Since people have been posting kitten pix, it made me want to post one of Juniper-kitty: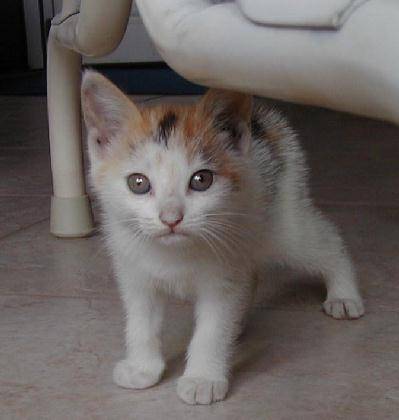 That was one of the very few I managed to take, where she wasn't a moving blur. She's still getting along well with the puppy-dog, last I heard.
I'm so tired and busy, that by the time I have time to write in my journal, it no longer seems important to do so.
I came home, wanting to mow (whack?) my grass. (I use a weed-wacker.) I was
looking forward
to cutting the grass, so that when it started raining, I was disappointed. Isn't that weird? It's not that I truly enjoy cutting grass, but I want to make my yard look good. I don't want to contribute to making the neighborhood look bad by having an unkempt-looking yard. Even though personally, I prefer wild-growing grass to short-shorn grass, it now bothers me, not having my grass short.
I got Forestfen a good deal on DSL, to replace the previous account I had at her house. It's only $10 a month, with a 12-month term agreement. It's the "lite" DSL, but I think it is fast enough for her purposes. Wish I could have gotten a deal like that at my new house (I'm paying 3 times as much, and it will go up to 4x as much later on), but it's not available here.
Yesterday and today at work, I wrote myself a webpage with javascript for converting byte-arrays of EBCDIC codes in signed-integer format to ASCII. The Eclipse debugger displays the byte-arrays as signed numbers, and since most EBCDIC tables only include unsigned-integer or hex codes, it was difficult to decipher them. Now I just have to copy & paste & click a button. If I had a lot of free time, I could try coding an Eclipse plugin to do it automatically within the debugger.
Maybe I should download Eclipse to my home computer. I was playing with one of my old audio programs yesterday, and it was having problems. I could re-code it in Java.... but that would take time and effort, which I need to spend on other things for now.
Like mowing grass. And figuring out how to get tile layed down in my washer-dryer area. And getting a washer & dryer. And getting electrical stuff done. And paint. And plumbing. And towel racks. I'm beginning to think I might not get some of this stuff done this year. Maybe I ought to just let things be and relax.